News of the Day
Terence Blanchard E-Collective at Snug Harbor on 12/4!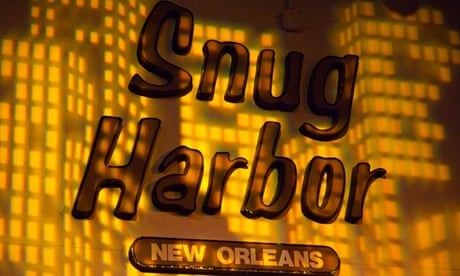 Terence Blanchard's new group, the Terence Blanchard E-Collective, makes its New Orleans debut at Snug Harbor Jazz Bistro on Thursday, December 4, 2014! The band features Fabian Almazan on piano, Charles Altura on guitar, Donald Ramsey on bass, and Oscar Seaton on drums. First set begins at 8:00pm with a second set at 10:00pm. TICKETS ON SALE NOW!
#JazzMyWay: Tell us how you enjoy jazz music!
Let us know how you listen to Terence Blanchard or jazz by sharing a picture of yourself or someone you know listening to jazz, the device they use to listen, and where (in the park, in your office, in your kitchen, etc.)!
To share your pictures with us, post it to the Terence Blanchard Twitter page and add #JazzMyWay.
Check out the #JazzMyWay pic we have received so far!
News
Video of the Day
The Terence Blanchard E-Collective at Jazz & the City Festival
The Terence Blanchard E-Collective perform in Salzburg, Austria at Jazz & the City music festival. Video features Oscar Seaton (drums). Charles Altura (guitar), Fabian Almazan (keys), and Donald Ramsey (bass).
Current Projects
SFJazz Center
SFJazz Center has named Terence Blanchard among one its Resident Artistic Directors for the 2014-15 season! As a Resident Artistic Director, Terence has programmed and curated four nights of special performances to be held at the SFJazz Center Miner Auditorium. Tickets for the SFJazz 2014-15 season are now on sale to the public.
Film Projects
Terence Blanchard is composer for the score to the new film Black & White, which is currently screening on the film festival circuit. The film, directed by Mike Binder, focuses on a custody battle over a mixed-race girl, between her maternal grandfather (Kevin Costner) and her paternal grandmother (Octavia Spencer).
Upcoming Shows
| | |
| --- | --- |
| Date | Venue |
| December 4, 2014 | New Orleans, LA |
| April 9, 2015 | San Francisco, CA |
| April 10, 2015 | San Francisco, CA |
| April 11, 2015 | San Francisco, CA |
| April 12, 2015 | San Fancisco, CA |
Latest Tweets
Tweets by @T_Blanchard
Collaborations
Education
As the Artistic Director of Jazz for the Mancini Institute at the University of Miami, I am excited to teach some of the most talented young musicians in the country.